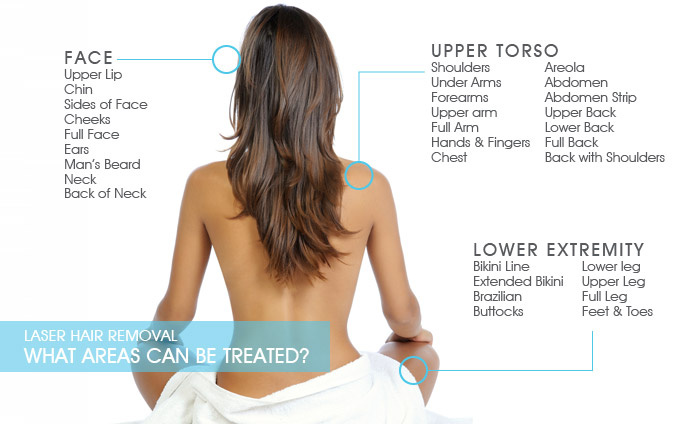 Elite+™ Laser Hair Reduction
Are you tired of shaving, waxing, tweezing, and plucking? Now, it's possible to discover your "beautiful" without the tedious, painful, and often short-lived fixes.
Laser hair reduction provides a fast, easy solution for permanent hair reduction, allowing you to look and feel your best without all the hassle.
Free Yourself from Unwanted Body Hair The secret to laser hair reduction is the clinically-proven technology that targets and destroys cells responsible for hair growth without harming surrounding skin. It's a simple approach to permanent hair reduction that's fast, easy, and FDA-cleared. Best of all, treatment sessions can take just minutes.
Laser hair reduction is a procedure in which a laser is used to permanently damage hair on the body. In order to achieve permanent results, it is important to make a commitment to this procedure.
Laser is superior to waxing and shaving because hair is permanently reduced after each session. We are also preventing ingrown hairs, rather than causing them. On average, people will require at least 6-10 treatments to achieve the best results. The average duration of a session can be anywhere between 5 min to an hour, depending on which area is being treated. This method of hair reduction works best on dark hair, since the laser works by targeting melanin.
The Elite laser is the best hair reduction laser on the market today. It has the two most effective laser wavelengths for permanent hair reduction.
Frequently Asked Questions
To eliminate hair, the laser emits gentle pulses of energy that pass through the skin to the hair follicle. This energy is then absorbed into the hair follicle to destroy the stem cells which produce the hair, thus inducing permanent hair reduction, without harming surrounding tissue.
Laser hair reduction can be done on any skin color or body area, as long as the hair is dark brown or black. Unfortunately blond hairs cannot be removed reliably.
Hair reduction can be uncomfortable. Most people feel only a slight, momentary "snap" at the treatment site during the procedure. However, we can offer cold air paired with the laser to improve the comfort of the procedure.
Laser hair reduction treatments take just minutes for small areas and about a half hour for larger areas.
Most patients see results within 6 to 8 treatments, thought this number will vary based upon skin tone, hair color and several other factors.
Unfortunately many laser clinics claim they can achieve total reduction of all hair. However this is not possible. Multiple research studies have been performed and concur that 70 to 80% hair reduction is what can be expected. The remaining 20 to 30% is finer and lighter than before and can be maintained with plucking, waxing, shaving or occasional touch up laser treatments.
You can resume regular daily activities immediately following treatment.
After laser treatment:Do not expose treatment area to direct sunlight for at least 1 week.Do not take extremely hot shower. Warm/cool shower is OKBe gentle with the treatment area, do not exfoliate for a few daysDo not put perfume/lotions with perfume directly on treatment area for 2 daysHair will shed in 1-2 weeks. In the mean time, it will look like it is growing.